Construction Information
---
Loft/Second floor:
If you like to have second floor / loft through part or entire of your design, there are two possibilities: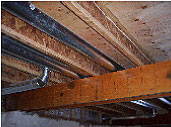 - Hidden joist;
This design is similar to conventional houses with 2x10 or engineered I-beam floor joist. The advantage to have this type of floor is to have space to carry the duct system as well electrical and plumbing hardware. Also this design provide better cavity to have improved sound insulation quality. However, it is not very common for timber framing houses. If you would like to have this design with timber framing look, you may add False joist over finished ceiling.
- Exposed Joist:
This is more traditional design. It can be very attractive by having natural colour contrast between selected material. Also this design is more cost efficient since ceiling on the first floor is the same material as the finish floor on second floor. This design need special attention to accommodate the wiring through the walls. Duct system and plumbing can be don through designated closet between the floor.